Introduction
Although useful, the "Save" -> "Download" option in our search UI is limited to 10,000 lines. For larger export tasks, we recommend using the "Export to S3" option. This article explains how to best utilize our on-demand S3 export capabilities.
Getting Started
Please review the "Provisioning S3 Buckets" topic of https://app.scalyr.com/help/exports before beginning, as this is an essential prerequisite
Search Parameters
Query
We consider testing the query you intend to use in the "Search" page is a best practice, as it helps ensure that everything is correct beforehand. Once the query returns the results that you expect, click the "Save" -> "Export to S3" option. The 'Query' and time range fields will be automatically populated in the "Batch Export to S3" page.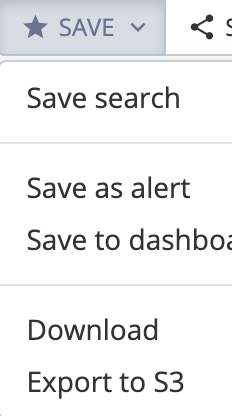 S3 Bucket for File Export
You can simply specify the bucket name (instead of the entire S3 URL) here.
Other Notes
The "Start Export" button will be enabled once all required fields are input. Click this button once and wait ~10 seconds -- if no updates are displayed in the "Recent Exports" section, refresh the page.
If your export did not succeed, search for tag='archive' during the timeframe when the export request occurred.