You can leverage Zscaler data with the power of dataset by ingesting ZIA logs. You have two options to forward logs. You can do so with the API or you can deploy an NSS server and a Dataset agent on that server.
Prerequisites
SentinelOne customer with console and Marketplace access
Zscaler customer with console and API access
SCIM integration with an IDP
Setup Zscaler
Option A: Cloud to Cloud
Setting up RESTful forwarding is the ideal option to forward ZIA logs.
You can do so by following the instructions below
Log in and navigate to Administration > Cloud Configuration > Nano Streaming Service

Add Cloud NNS Feed

Add new feed

Configure the form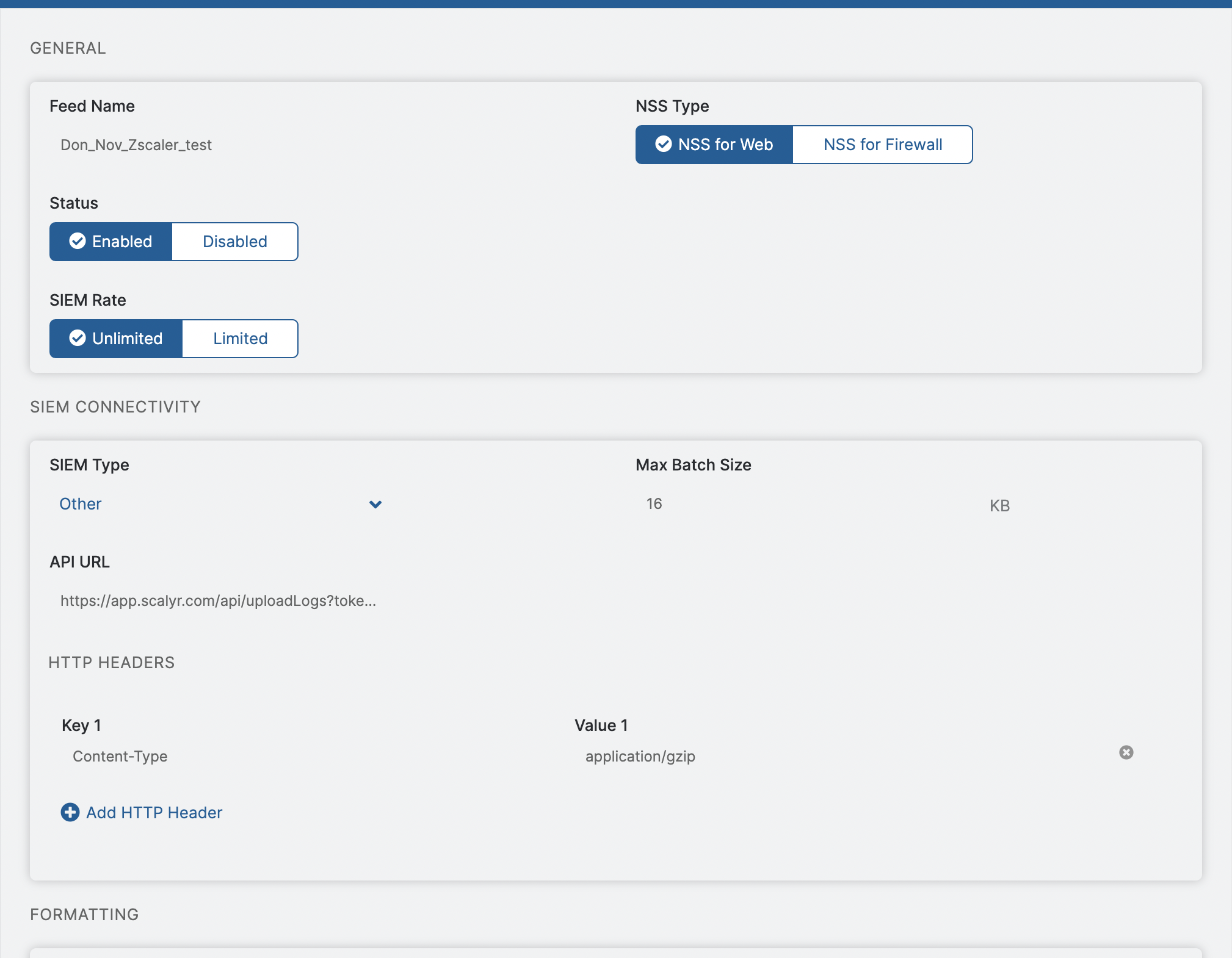 Feed name: {{desired_name}}
SIEM type: select "Other"
API URL: https://app.scalyr.com/api/uploadLogs?serverHost={{desired_host_name}}&logfile={{desired_logfile_name}}&parser=zscaler&token={{dataset_write_log_key}}
Key 1: "Content-Type"
Value 1: "application/gzip"
Feed Output Type: JSON
Log Type: {{desired_log_type}
5. You can now send a test HTTP REST API log to your DataSet account by clicking here



7. From your DataSet account you should receive a Zscaler test message (example below):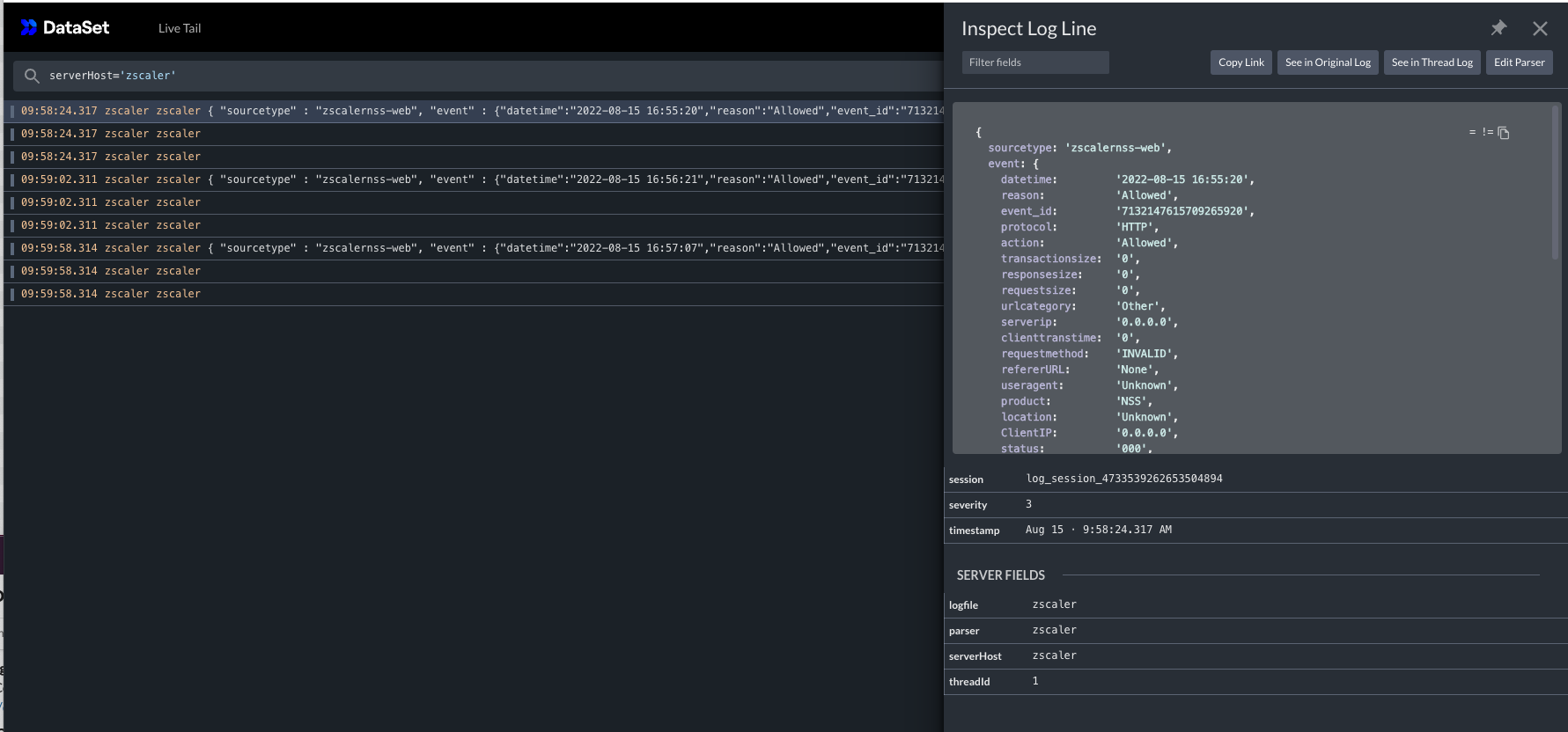 6. Setup Dataset (see bottom of page)
Option B: Syslog
Log in and navigate to Administration > Cloud Configuration > Nano Streaming Service
Deploy NSS Server (see zscaler documentation)(guide)

Add NSS Server (see zscaler documentation)
Deploy the dataset agent on NSS Server
Setup the Dataset syslog monitor
Point the NSS server to the Syslog Monitor
Setup Dataset (see bottom of page
Setup Dataset
Create Parser


Paste parser


{
// specify a time zone if the timestamps in your log are not in GMT
// timezone: "GMT-0800"

formats: [
{
format: "^\\s+"
discard: true
},
{
id: "format1",
format: "\\{ \"sourcetype\" : \"$sourcetype$\", \"event\" : $=json{parse=dottedJson}$"
rewrites: [
{input: "datetime", output: "timestamp", match: ".*", replace: "$0"}
// moved upstread wher it is more efficient
{input: "message", output: "message", match: "(.*\")(\\{\"\\w+\".*)", replace: "$2"} 

]
}

]
}

Create Dashboard
Paste Dashboard

{
graphs: [
{
graphStyle: "stacked_bar",
layout: {
h: 10,
w: 14,
x: 0,
y: 0
},
plots: [
{
facet: "rate",
filter: "(parser='zscaler')",
label: "Rate"
}
],
title: "Zscaler Event Volume",
yScale: "linear",
lineSmoothing: "straightLines",
barWidth: "auto"
},
{
query: "serverHost contains 'zscaler' requestsize = * responsesize = *\n| group total_requests = sum(requestsize), total_responses = sum(responsesize) by user, appname \n|let total = total_requests + total_responses\n|sort -total",
title: "Zscaler User Volume by App",
layout: {
h: 20,
w: 20,
x: 0,
y: 21
},
graphStyle: ""
},
{
barWidth: "auto",
breakdownFacet: "appclass",
graphStyle: "stacked_bar",
plots: [
{
facet: "responsesize",
filter: "serverHost contains \"zscaler\"",
label: "responsesize"
}
],
title: "Cloud Application Classes (bytes)",
yScale: "linear",
layout: {
h: 11,
w: 15,
x: 14,
y: 10
},
lineSmoothing: "straightLines"
},
{
graphStyle: "pie",
maxPieSlices: 20,
query: "urlcategory = *\n|group count() by urlcategory ",
title: "Top Url Categories",
layout: {
h: 11,
w: 30,
x: 29,
y: 10
}
},
{
barWidth: "5 minutes",
breakdownFacet: "appname",
graphStyle: "stacked_bar",
lineSmoothing: "smoothCurves",
plots: [
{
filter: "urlcategory = * appclass = 'Social Networking' ",
label: "Rate"
}
],
title: "Social Networking Applications",
yScale: "linear",
layout: {
h: 11,
w: 14,
x: 0,
y: 10
}
,
},
{
graphStyle: "donut",
maxPieSlices: 10,
query: "urlclass='Advanced Security Risk'\n|group count() by urlcategory ",
title: "Top Advanced Threats",
layout: {
h: 10,
w: 16,
x: 29,
y: 0
}
},
{
query: "user matches \".*@.*\" responsesize = * \n\n|group \"total_bytes\" = sum(responsesize) by user\n|sort -total_bytes\n",
title: "Top Users",
layout: {
h: 10,
w: 15,
x: 45,
y: 0
}
},
{
barWidth: "5 minutes",
breakdownFacet: "appname",
graphStyle: "stacked_bar",
layout: {
h: 10,
w: 15,
x: 14,
y: 0
},
lineSmoothing: "smoothCurves",
plots: [
{
filter: "urlcategory = * appclass = 'Streaming Media' ",
label: "Rate"
}
],
title: "Streaming Media Applications",
yScale: "linear"
},
{
query: "user = * threatname = * threatname != \"None\" threatcategory != \"None\" \n| group count = count() by threatname, threatcategory, threatclass, user\n| sort - count",
title: "Categorized Threats Detected",
graphStyle: "",
layout: {
h: 9,
i: "8",
minH: 3,
minW: 6,
w: 20,
x: 20,
y: 25
}
},
{
barWidth: "5 minutes",
graphStyle: "stacked",
lineSmoothing: "smoothCurves",
plots: [
{
filter: "sum(requestsize where requestsize = * ) ",
label: "Request"
},
{
filter: "sum(responsesize where responsesize = * ) ",
label: "Response"
}
],
title: "Total Bandwidth Consumption",
yScale: "linear",
layout: {
h: 20,
w: 20,
x: 40,
y: 21
}
},
{
barWidth: "10 minutes",
breakdownFacet: "threatname",
graphStyle: "stacked_bar",
plots: [
{
filter: "appclass = * action = 'Blocked' threatname != 'None'",
label: "Rate"
}
],
title: "Known Threat",
yScale: "linear",
lineSmoothing: "straightLines",
layout: {
h: 11,
w: 20,
x: 20,
y: 30
}
},
{
barWidth: "10 minutes",
breakdownFacet: "appname",
graphStyle: "stacked_bar",
plots: [
{
facet: "rate",
filter: "(logfile contains 'syslog' || k8s-controller contains 'syslog' || k8s-cron-job contains 'syslog' || k8s-daemon-set contains 'syslog' || k8s-deployment contains 'syslog' || k8s-job contains 'syslog' || k8s-replica-set contains 'syslog' || k8s-replication-controller contains 'syslog' || k8s-stateful-set contains 'syslog')",
label: "rate"
}
],
title: "Browsing ",
yScale: "linear",
layout: {
h: 14,
w: 20,
x: 40,
y: 41
}
},
{
graphStyle: "pie",
maxPieSlices: 10,
query: "(logfile contains 'zscaler')\n|columns appname\n|group count = count() by appname\n|sort -count\n|limit 10",
title: "Browsing Stats",
layout: {
h: 14,
w: 20,
x: 0,
y: 41
}
}
]
/* parameters: [
{
defaultValue: "www-data",
facet: "src.process.user",
name: "Username"
}
],*/
options: {"layout":{"locked":1}},
filters: [
{
facet: "user",
name: "Username"
}
]
}